Get Kirkpatrick Certified with Promote
Promote is a Kirkpatrick Partner authorized to offer authentic Kirkpatrick programs to our clients.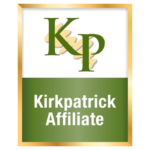 The Kirkpatrick Model
The Kirkpatrick Model is one of the most recognized and respected methods of training evaluation in the world. Dr. Don Kirkpatrick created the Kirkpatrick Model in the 1950s, and the model is the worldwide standard for evaluating the effectiveness of training. The model considers the value of any type of training, formal or informal, across four levels.
The Kirkpatrick Model was updated and clarified with the New World Kirkpatrick Model, a modern way of using the Kirkpatrick Model to plan, execute and measure training that creates business value.

Kirkpatrick Certification Bronze - Online
During this course, you will learn the four levels of training evaluation and receive a participant manual filled with examples and templates that you may borrow and adapt to build your own tools and course critiques. You will also gain a complete understanding of what each level measures.
The experienced facilitator Edward Boon will guide you through the online program and make sure that, as a participant, you get the most out of it.