The answer to the biggest challenge of training
Give your participants a learning journey that gives you a better return on your training investments.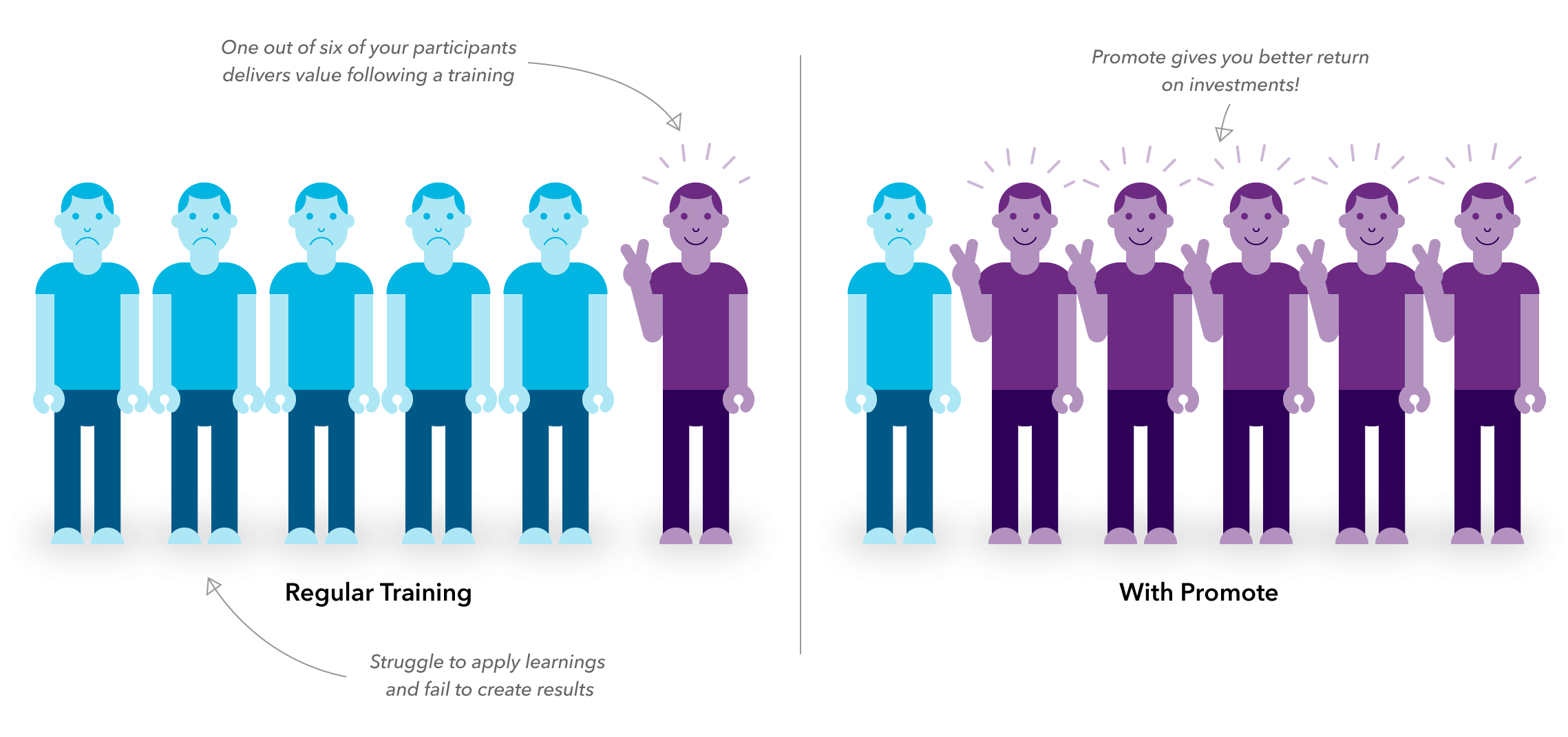 Research shows that, on average, only one out of six of your participants delivers value following a training. The other five struggle to apply learnings and fail to create results for the organization.
So the full value of your program is never realized. The good news is that this can be fixed by using a proper training process and a system that releases the hidden potential of your employees.
Our key concepts
Promote is built around four key concepts proven to support your learners to sustain behavioral change.
This is the impact of Promote.

Guided social learning
96% of participants engage in best practice discussions with their Manager and peer group leading to new and improved behaviors.

Management involvement
91% of participants involve their Managers in goal setting. As a result engagement levels increase as do the chances of the desired behaviors sticking.

Impact measurement
75% of Managers acknowledge the role Promote plays in supporting those they lead in achieving the desired business results, through behavioral application.

Effective training
86% of participants apply their new learning consistently post training leading to value creation and business results four times higher than the average training program.
Be inspired by some really great companies
"It feels 21st century and we can measure the results"
Térèse Troedsson (Vattenfall), Anne Apking (Author and Performance Technologist) and Jason Durkee (Idea Development).
"It cuts down the number of days in the classroom"
Emil Robertsson, Informator Utbildning
"Bringing ideas alive"
Melanie Martinelli, C2C Organizational Development
"It allows us to go global"
Peter Klarstrom, SRS
Promote delivers more than numbers
Value for Business
Greater ROI through increased on the job performance
Impact measurements to prove how business benefits from the program
Training aligned with business needs
Value for L&D
Creates robust training programs with managerial involvement
Collaborative program design with key stakeholders
Evidence of L&D's true business value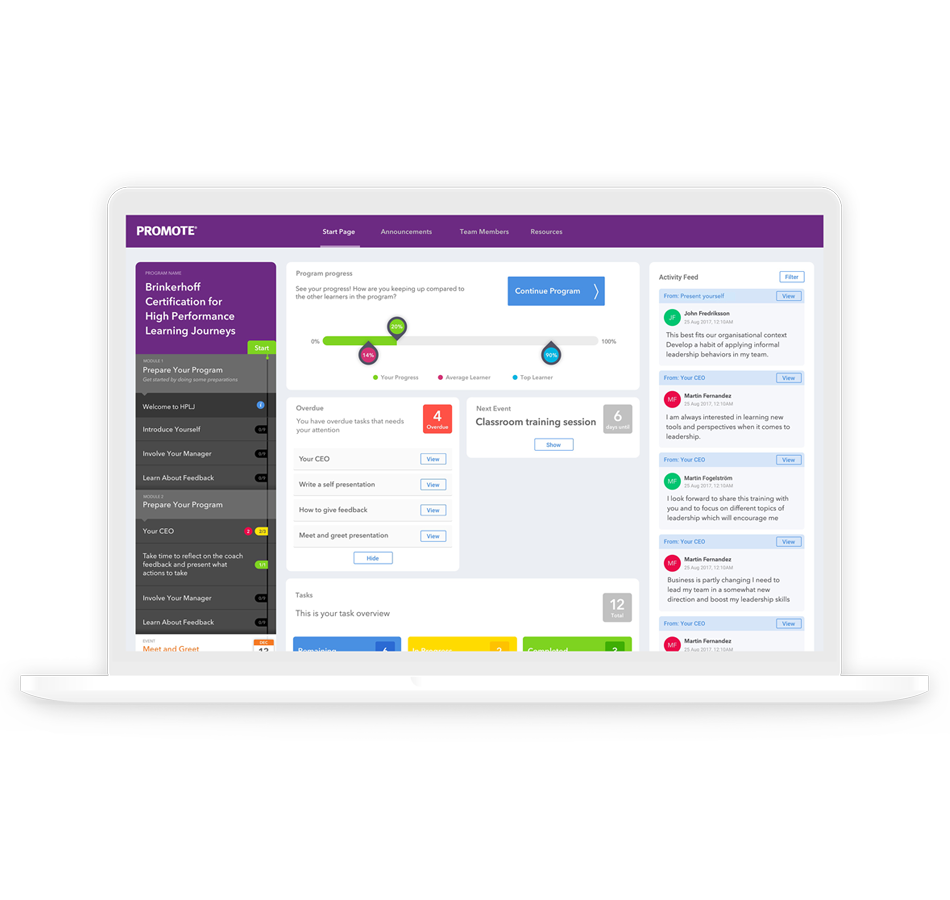 Value for Business
Greater ROI through increased on the job performance
Impact measurements to prove how business benefits from the program
Training aligned with business needs
Value for L&D
Creates robust training programs with managerial involvement
Collaborative program design with key stakeholders
Evidence of L&D's true business value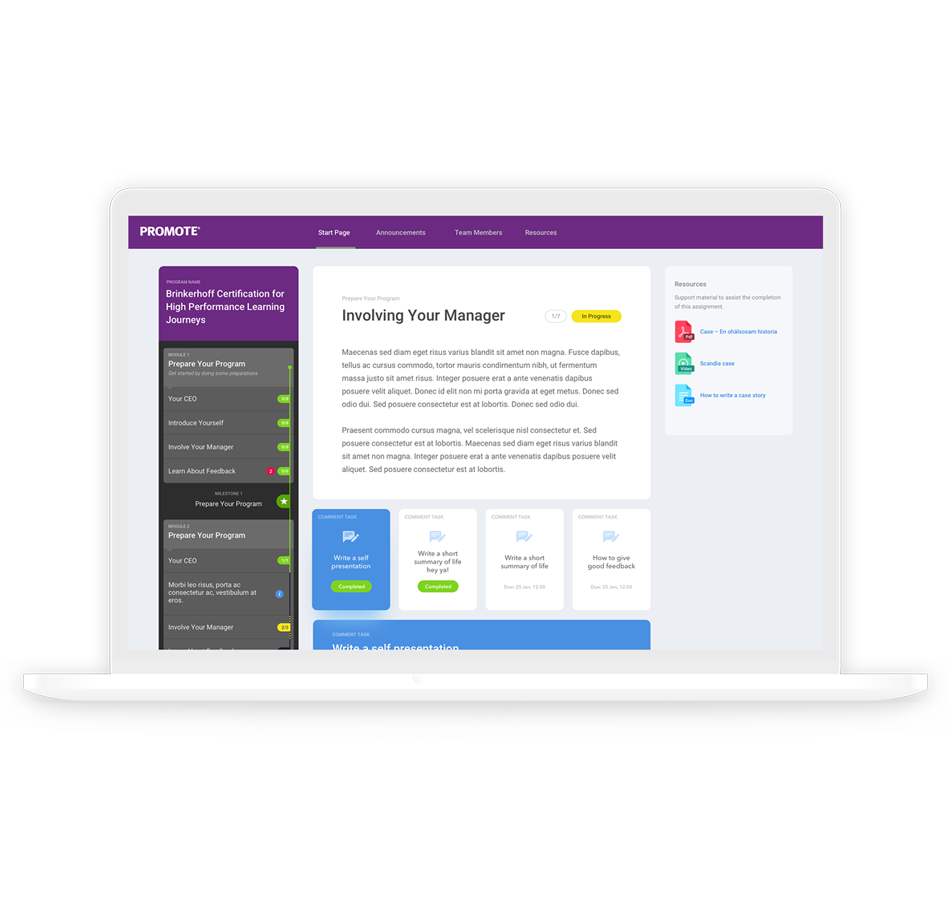 Value for Learners
A visible learning journey with all actions and materials related to a program
Collaboration with other learners
Managerial support throughout the program
Value for Managers
A clear overview of the progress made in the program
Improved performance outcomes for team members
Enables more efficient management of people development
Value for Learners
A visible learning journey with all actions and materials related to a program
Collaboration with other learners
Managerial support throughout the program
Value for Managers
A clear overview of the progress made in the program
Improved performance outcomes for team members
Enables more efficient management of people development