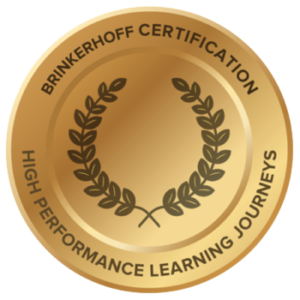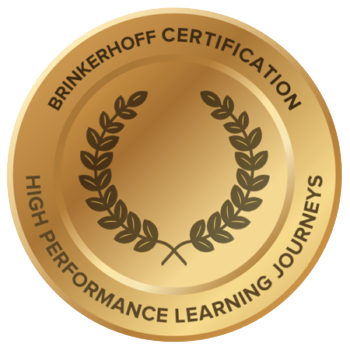 Brinkerhoff Certification High Performance Learning Journeys®
High Performance Learning Journeys is the world's most recommended certification for you who want to create effective training initiatives through learning journeys.
High Performance Learning Journeys - when training needs to make a difference
In the certification for High Performance Learning Journeys, you learn how to design effective learning journeys and create a structured way of working for various training initiatives. During the certification, you get access to industry-leading methodology, powerful tools and a future-proof way of working – under the guidance of the leading experts in the subject. High Performance Learning Journeys is the most complete methodology for designing training initiatives.
Recommends this certification to others within HR and L&D
Experiences that training programs designed after High Performance Learning Journeys have a long-lasting effect on the workplace
Previous participants have passed the certification
Why it works: Research & best-practice
High Performance Learning Journeys is a design program based on over four decades of research by Professor Robert Brinkerhoff.
Robert Brinkerhoff is an internationally recognized expert on learning effectiveness and evaluation of how well training works. Robert's research and experience have proven effective in organizations around the world.
The certification program equips you with a model and complete toolbox from the combined research Robert Brinkerhoff developed. This will help you to consistently design training initiatives that deliver increased impact, clear behavior change, and business impact for your organization.
Get 5X more effect from your training programs
Get the tools to create amazing results. A well-executed learning journey provides 5 times more application of knowledge at work than traditional training methodology.
Become a professional at designing learning journeys
Futureproof your training programs and set up your learning career for a bright future. Through this training, you will become a professional at effective training and result-driven initiatives.
Design time-efficient learning opportunities that engage participants
Reach a whole new level of engagement, where participants learn from each other, from managers, and in the workplace.
Create behaviors that drive toward business goals
Effective programs drive business goals. Learn to build programs that create the right behaviors in participants for the results you need.
More information about High Performance Learning Journey Champion
We also offer HPLJ in-house for more than 6 participants – contact us to learn more.
The program spans over a total of 6 weeks with 2 x 3 hours of live online training and 6 hours of self-study (approx. 1 hour per week).
Who is the certification for?
For everyone in HR and L&D – from program designers and course leaders to education managers, e-learning developers, and HR / L&D managers.
What type of certification is it?
HPLJ is an instructor-led online certification with elements of self-study and group sessions. You will receive a signed certificate upon completion of the program.
"HPLJ is a clear and transparent model for creating an effective and engaging learning journey. The way in which the course is delivered is an inspiration in itself, as it lives what it teaches."
"We are several who have undergone HPLJ and are incredibly satisfied. Despite the fact that we have all worked for a long time with learning and are not beginners in the way of thinking, we gained a lot of new insights. Thanks to HPLJ, we have now established a common approach to development and a framework for continued work. "
"High Performance Learning Journey is an certification that I recommend for anyone who wants to build learning journeys that have a direct business effect"
"I think this is a very well-planned and complete online certification.All my hopes and expectations were met (and they were quite high from the start, considering the topic of HPLJ ...). "
"Whether you are experienced in skills development and change management or you are a beginner in the field, the HPLJ methodology provides the tools and working methods to create both more fun and more goal-oriented learning journeys."
Next date:
8th of Feb 2024 (Swe)
Last sign-up date

Session 1 (start)

Session 2

Time

Language

Sign up for the High Performance Learning Journey, the Champion certification
Want to pay via invoice? Fill in the form below.