Sage is a global SaaS market leader providing small and medium businesses with the visibility, flexibility, and efficiency to manage finances, operations, and people all in Sage Business Cloud. With over 11,000 employees, Sage provides products and solutions to over two million customers in 20+ countries.
Sales Enablement at Sage – "setting up sales colleagues for future success"
The global Sales Enablement function supports the product and skill learning and development of nearly 1,200 sales colleagues throughout Sage.
Sage has been going through a strategic transformation in recent years, moving towards a native cloud-based solution. Leaders in the Sales Enablement function identified this as an opportunity to continue to improve the way they supported sales teams as well, "providing a much better learning experience for our sales colleagues and providing them that long-term benefit," explains Steve Hamilton, Director of Sales Enablement in North America.
A few colleagues had already graduated from Promote's Brinkerhoff Certification for High Performance Learning Journeys (HPLJs) and recommended it to Steve.
After doing his due-diligence, Steve quickly realized that since Sage is a global company, the HPLJ certification could have a more profound impact if additional colleagues from Sales Enablement's numerous regions were certified together.
"We're all trying to improve the knowledge and experience of our sales colleagues. What a great way to learn together and scale our value to Sage."
So, Steve reached out to sales enablement colleagues in other regions to see if they would be interested, and noticed that a few key points resonated:
A strong focus on setting up sales colleagues for future success
Creating learning journeys, rather than learning events
Building something that's sustainable
People quickly responded, saying "sign me up."

Internal HPLJ Certification
Sixteen colleagues participated in Promote's Internal HPLJ certification for Sage, and during the program, the colleagues were able to apply their learning immediately, transforming Sage's event-based programs into High Performance Learning Journeys.
"We had already begun to think about things differently. However, with more of the sales enablement team going through the certification, we've been able to accelerate our efforts. It has made a transformational move in our logic, our approach, and our thought process." As a result, they expect to see more learning absorption and application by the sales teams, and sustainable utilization of that knowledge so that they can perform better in their jobs."
Since the sixteen colleagues were going through the HPLJ certification program together, they were able to split into four groups, mixing colleagues from different regions. This approach had some immediate benefits: it allowed them to not only get to know each other better (some had never met before), but also lead to a lot of cross-pollination between the regions. And they've already seen other benefits:
"Going through it together really strengthened the Sales Enablement team in terms of our approach…We use the same language. We talk about HPLJs when we have a new initiative or project."
"By having 16 sales enablement colleagues go through the certification process together, we have raised the talent level within the global sales enablement team, as well as improved the value that we provide to Sage overall."
As the group of colleagues continues to transform existing programs and build new programs in the HPLJ format, Steve sees more positive results on the horizon. "Taking these programs and building them out into HPLJs has become our standard. Our sales colleagues should expect that when we introduce a new product or skill learning, it will be built in the format of an HPLJ."
Tips on Overcoming Resistance in the Organization
As with all change processes, Steve and his colleagues expect some resistance along the way. However, they are laying the groundwork to overcome this. Steve shares some tips:
Most important is to show the Sales colleagues what they will gain from this new approach in terms of increasing their performance and enhancing their customer interactions.
The same thing goes for the Sales Leaders and Executives. Make sure they understand what an HPLJ is and its benefits—WHY it's important to make this change, how it will improve performance and help achieve desired business outcomes.
Upon completion of the Internal HPLJ Certification, send a message to your Sales Leaders to let them know that your team has just completed their certification and what it means for the leaders, and most importantly, their team.

Business Impact
As they enter the new fiscal year, Sage expects to see even better business results due to the foundation that Sales Enablement is providing them on the learning side. "If you're a sales colleague and you're really invested in becoming better in your job, I think this really resonates with you, because you know there's a team that's investing more into your success as a sales colleague. Not that we didn't before, but now it's just at a higher level," Steve explains.
Sales Enablement continues to evolve, playing a bigger role in the success of many organizations (not only at Sage). "We continue to build our portfolio of what we provide and how we serve our sales colleagues, and that's not going to change, and it's certainly not going to slow down. That's where the HPLJ comes in."
---
What is the Brinkerhoff Certification for High Performance Learning Journeys?
The Brinkerhoff Certification for High Performance Learning Journeys is an instructional design program built on four decades of research. The certification program equips L&D professionals with a model and complete toolbox to design training initiatives that deliver performance improvement and business impact.

About Sage
Sage is the market leader for integrated accounting, payroll, and payment systems, supporting the ambition of the world's entrepreneurs.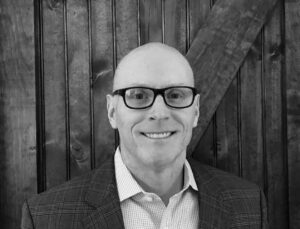 Steve Hamilton, Director of Sales Enablement in North America.