Author: Linnea Hakansson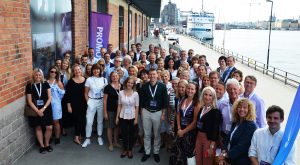 During two intense days, the Promote Network met in sunny Stockholm, Sweden, for the annual Promote Network Summit, PNS2018. We had +100 engaged participants from all over the world attending this year. 
See the video from PNS2018 here.
We had a number of fantastic keynote sessions with amongst others, Robin Hoyle – Head of Learning Innovation at Huthwaite, Dr. Ina Weinbauer-Heidel – CEO and Founder of Institute of Transfer Effectiveness, Masha Ibeschitz, Professor Robert Brinkerhoff and Edward Boon from Promote International.
We started the summit with  Jon Serrander, the CEO of Promote, welcoming all delegates and sharing some news from the learning industry. Edward Boon, who hosted the entire event (and had a couple of break out sessions) presented the schedule for the two intense days and kicked off the mingling part with a couple of exercises.
There was a couple of parallel break-out sessions to chose from both days, spanning from "hands-on-Promote" to more theoretical sessions. A good mix in other words!
"Creating learner-centred assignments that engage" with Edward Boon (Promote)
"Implementation of business-driven learning" with Thérèse Troedsson (Vattenfall) and Mark Gussetti (Promote)
"Running successful trainings with in-house facilitators" with Hanna Andersberg (Orkla)
"The Good, the Bad and the Ugly of Training – What works?" with Lynette Brinkerhoff (BEI) and Mikael Borak (Promote)
"Can you measure the effect of an onboarding program in hard cash?" with Annika Devert (Willys) and David Djerf (Induction)
"How to simplify the course delivery process from an administrator's perspective" with Andreas Kühne (Promote)
"What is learning transfer and why it's critical to get results from training" with Jason Durkee (Idea Development) and Ian Townley (Next Practices)
"The art of the stakeholder dialogue – steering left and right" with Edward Boon and Robert Brinkerhoff (Promote)
"Transform your training company with Promote" with Jon Serrander and Mikael Borak (Promote)
"Good program design – program template give-away" with Edward Boon (Promote)
"Connecting to Stakeholder: Gaining Essential Support for Strategically Important Training Programs" with Anne Apking (Author and Performance Technologist)
The venue for this years PNS2018 was Fotografiska, a museum in Stockholm focusing on photography. The Fotografiska restaurants have won all kinds of prices for their good food, so the expectations were sky-high. A highlight on Wednesday afternoon was a guided tour of the museum for the ones who weren't interested in watching the Sweden – Mexico world cup-game.
On Wednesday evening we had the annual "Promote Network Awards" with Jon Serrander and Robert Brinkerhoff on stage giving out the awards.
This year's winners were (amongst others):
People&Performance got the "Program of the year" award for their Nobia Excellent Executive Programme
Vattenfall got the "Trainee program of the year" award for their International Trainee Programme 2017
MDI got the "Leadership program of the year" award for their Agile Leadership programme
Willys got the "Induction program of the year" award for their Induction for new employees at Willys programme
Huthwaite got the "Sales program of the year" award for their SPIN® selling for ITN programme
Informator got the "Pilot of the year" award for their Developer Accelerate Program for Ericsson
Getinge got the "Excellence Award" for their Sales Management Development program
Day 2 continued with a mix between breakout sessions and keynotes. The last session was a panel discussion with Jon Serrander, Anne Apking, Ina Weinbauer-Heidel, Robin Hoyle and Robert Brinkerhoff. Great discussions and valuable insights!
The great final was, except the group photo, the dinner cruise with dinner, drinks and dancing on Thursday evening.
Thank you all for a lovely Promote Network Summit 2018!
Be sure to keep in touch with us on Linkedin and Twitter to get all the news.
You will find all the PNS2018 related pictures and posts searching for #pns2018