Author: Linnea Hakansson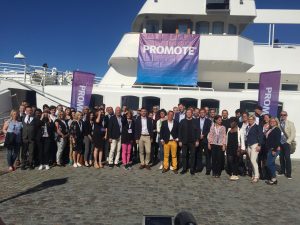 During two intense and sunny days, the Promote Network met in Sweden for the annual Promote Network Summit, PNS2017. We had 100+ engaged participants and people flying in from all over the world.
We had the opportunity to listen to some really great speakers during these two days and what we have heard the event was the best Promote Network Summit ever.
Day 1 started with Jon Serrander, the CEO of Promote, welcoming all delegates and taking us on a trip down memory lane showing the earlier versions of Promote and sharing the story behind the platform. Professor Robert Brinkerhoff told the story how he first came in contact with the Promote team and why he decided to join.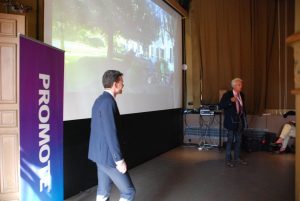 The first keynote speaker was Robin Hoyle, Head of Learning Innovation from Huthwaite, talking about organizational engagement and sustainable learning.
After an "Asian-fusion lunch" and some networking mingle, all the participants then attended four breakout sessions of their choice, out of six available:
"Introducing Brinkerhoff Certification for High Performance Learning Journeys" with Robert Brinkerhoff
"Customer Case – Global leadership program" with Isabell Sandström from Stena Metall
"Customer Case – Sending Execs Back to School: The Deutsche Telekom Story" with Steve Mahaley and Emma Holbrook from Duke CE
"Driving Business: How to sell training solutions based on Promote" with Mikael Borak and Karin Plith from Promote
"Promote Good Practice: Review your program" with Elin Lennartsson from Promote
"Evaluating your Program using data from Promote" with Edward Boon from Promote
The venue for day 1 was Gamla Riksarkivet, a building from the 1800-century with a unique architecture. The evening was spent on their courtyard with dinner, drinks and the annual Promote Network Summit awards handed out by Jon Serrander at the stage.
The winners for the best Promote programs were:
Getinge with "Getinge Infection Control Product Sales Training"
A very well balanced program, good variation of assignments and a clear intention towards the application. Good use of announcements particularly liked the way you included a competitive element to encourage pre-work completion.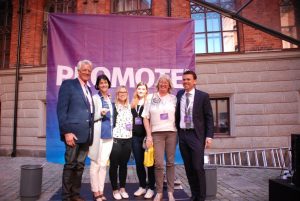 Informator with "ITIL Foundation Optimized"
The program had a clear process design, great use of resources and a very nice look and feel. This is a great example of how Promote can be utilized for more than traditional training events.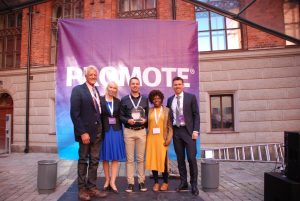 Brainard with "EXCELerate"
A well-structured program with a clear learning journey, a good mix of assignments types leading to a very high participant completion rate.
Day 2 started off in a windy yet sunny Stockholm on a boat (!)…
The first Keynote Session on Thursday was held by Peter Sheppard, Global Head of Learning Excellence at Ericsson. Peter talked about the Learning Challenges in Large Organisations.
Professor Robert Brinkerhoff followed right before the coffee break and talked about the Promote Impact Study conducted by Brinkerhoff Institute. A very interesting key note and we are excited to share this study with all of you very soon.
Robin Hoyle from Huthwaite explained why we should flip the 70-20-10 and after a lunch break with a Swedish summer theme, there were three different breakout sessions.
"Team.bio: A simple digital tool for managers designed by millennials" with Foucauld Guerin and Nicolas Blondeau. This is a new project within the Promote organization, and if you want to read more and get some information, please visit the Team.bio website https://www.team.bio/
"The levers of transfer effectiveness" by Dr Ina Weinbauer-Heidel from the Institute for Learning Transfer
"Ericsson Case Study – Selling Promote within the organization" with Britt-Marie Flemström
Last Keynote was by the very inspiring and well-spoken Steve Mahaley from Duke CE who shared his views on learning in "The Yin and Yang of Learning Technologies – Uncovering the Possible". Last but not least was Jon Serrander with some trends and a sneaky peek of what's next for the Promote platform.
The boat set off for a dinner cruise in the Swedish archipelago and returned at 9 PM for some partying, networking and dancing.
Thank you all for a lovely time, we have had such a great year at Promote with all of our clients and partners. See you at PNS 2018!
And be sure to keep in touch to get information about all the new features and functionalities coming this year.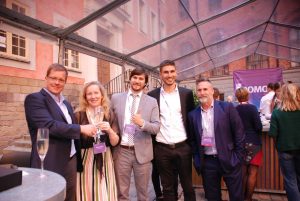 Looking forward to next year already!