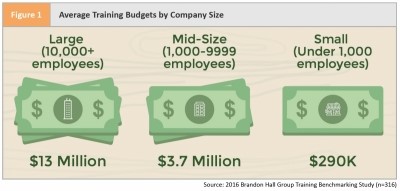 Companies spend massive amounts each year to ensure that their employees are working to their full potential and contributing to the accomplishment of organizational goals. But are such companies really getting a return on these expenses?
Below is a very common exchange of dialogue I have with my Kirkpatrick Four Levels® Evaluation Certification Program participants:
Me: What is your training evaluation budget?
Participant: We have a training budget, but not an evaluation budget.
Me: Why not? Does the company not consider evaluation important enough to mark off a specific budget for it?
Participant: It's definitely important. But the budget for evaluation is included in the overall training budget and not mentioned as a separate line-item.
These discussions with training budget managers (which includes CEOs, CLOs, and COOs) has helped me realize that:
Learning evaluation is often an after-thought; a knee-jerk reaction when asked the value of conducting the training
Evaluations are usually conducted at the Reaction and Learning levels, which unfortunately do not indicate the true value of training
The purpose of an evaluation is most often to ensure that training budgets are not reduced, rather than to show any real value to the business
Evaluation beyond smiley sheets is considered a vast and complex task that is simply too difficult to achieve
In general, managers of learning budgets, learning professionals, and organizations have a very misguided understanding of what learning evaluation entails
So, what exactly is learning evaluation, rather what is it not?
1. Learning evaluation is not something you think about after the intervention comes to an end

True and complete learning evaluation begins with the end in mind. Here is what really works:
When business stakeholders come to learning managers with a requirement, the learning manager must put on their consultant hat and try to get answers to the following questions:
Why is the intervention needed now?
What is currently going well, and what is not going so well?
What will happen if we do not proceed with the intervention?
What qualitative and quantitative indicators will demonstrate training success?
What will success look like on the job?
Most importantly, Learning and Development (L&D) managers will also reach an agreement with business stakeholders about the level of involvement expected from them. Here's a good rule of thumb to follow for planning and executing evaluation.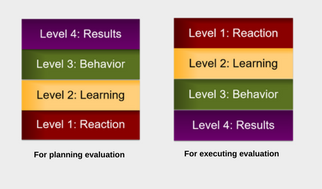 2. The purpose of learning evaluation is not just to prove that L&D rocks!
The key purpose of learning evaluation is to determine whether there has been any behavioral change of the participants on the job. Although saving money and perhaps increasing business might be the end goals, these really can't be achieved unless there is visible behavior change on the job. To achieve behavioral change, not only do we have to plan for evaluation, but we should also factor in support mechanisms (such as coaching, follow-up modules, executive modeling, etc.) that will enable the behavior change.
3. Evaluation is not just surveys and smile sheets

While smiley sheets may tell us how the participants reacted, and even whether they learned something, the surveys don't really provide enough information to determine if there is a behavioral change on the job post-training. Some of the leading indicators you can bank on to provide this instead are:
Observations on the job
Conducting focus groups post-training
Identifying and monitoring key, early indicators
This will allow us to monitor, adjust, and make corrections along the way to ensure that participants have enough support to make the transition towards new behavior seamlessly.
4. Evaluation is not just the job of L&D
Most often, it is assumed that both training and its evaluation is the sole responsibility of the L&D team. Nothing can be further from the truth. As per The Kirkpatrick Partners, "Performance on the job is the responsibility of training participants and business managers; preparing them for their roles before, during and after training is the responsibility of training professionals."
Here is how the L&D team can be supportive in preparation, before the program:
By understanding the business's true needs
By arriving on success factors
By agreeing on critical behaviors
The preparation for evaluation during the program can be by providing a learning solution that truly resonates with the participants and makes them want to commit to change.
Provide support after the program by helping create systems and process to ensure that the post-training support activities are carried out by line managers and supervisors. Also, ensure that there are built-in course corrections if the behavior doesn't change as expected.
5. Evaluation is super complicated
It really doesn't need to be! Keep a watch out for my next blog in which I will reveal some quick and easy things to do for different levels of evaluation.
So, how have you experienced learning evaluation within your organization? Does this resonate with you?

Read the original article by Preethi B. Rao from C2C Organizational Development here: https://c2cod.wordpress.com/2018/03/14/what-is-learning-evaluation-really/